[et_pb_section fb_built="1″ _builder_version="3.0.70″ custom_padding="0px|0px|0px|0px" collapsed="off"][et_pb_row custom_padding="0px|0px|25px|0px" _builder_version="3.0.47″ background_size="initial" background_position="top_left" background_repeat="repeat" collapsed="off"][et_pb_column type="4_4″ _builder_version="3.0.47″ parallax="off" parallax_method="on"][et_pb_text _builder_version="3.18″]
Malkyrs – The Interactive card game
Malkyrs is a Kickstarter campaign that was funded in under 3 hours. This is fast and, as of writing this article, still has 30 days to go. With it being funded so quickly, I can only hope that it hits most, if not all, of its stretch goals. The Malkyrs universe is looking to be full of lore and history.
"Malkyrs is an interactive trading card game that allows you to enjoy the best aspects of both physical and digital TCGs. In the fantastic world of Heptia you can play with physical cards online thanks to an innovative technology. This allows the Malkyrs cards to be upgradeable: you can improve their skills then trade them with their unique evolutions. "
Malkyrs is not only a Trading Card Game (TCG), but it's going to have a full campaign where you have choices to make and each choice can change the narrative of the campaign, and maybe even special traits of your cards. It is also coming to the Nintendo Switch.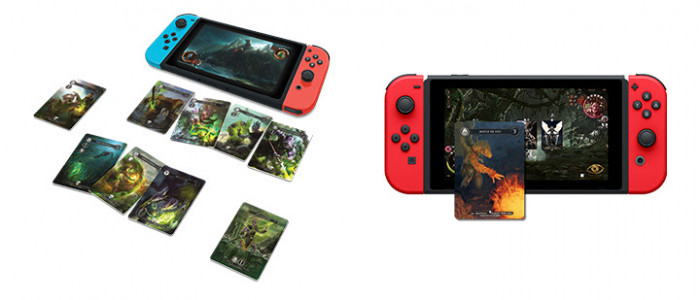 Speaking of cards; there is a lot of them. The game has 12 Champions, 260 Action cards and 40 Legendary cards and 8 treasure versions of the Champions*. Each card can be upgraded. The Champions can be given a specialisation of choice from over 200, the Action cards can be upgraded in 3 ways as well as equipped with a choice of 50 items. Making for a deep and very customisable card game. With the use of NFC technology and memory, the upgrades are stored on the card, making this a tabletop card RPG, without the stat sheets. Also if, like me, you are the only person you know that likes TCGs, you can play online from home and not have to travel miles to find a game night. So this is a massive boon for people like me. This being a TCG, you may want to trade the cards with other people, just remember that all the upgrades go with the card. Along with this, while the Kickstarter campaign is active, for every 15,000 Euros over the the reserve, there will be a free card added for all backs from the  Starter Pack** pledge and up.
*You can purchase all the cards on the Kickstarter page, but it will cost a whopping 1000 Euros.
**Starter pack lets you pick your champion and get an Induction pack and a Legendary Booster Pack.
Malkrys, being a computer game,  has different of options to play. There are four game modes: multiplayer  – which is cross-platform – play against AI, local co-op, and Story mode. Along with the different game modes, there will be over 100 daily quests to complete.
Booster Packs will be available for purchase – these are an add-on for the end of the campaign but will also be for retail sale.
Booster Packs, that contain 3 random cards and at least one Rare or Legendary card, will cost 7 Euros.
Legendary Booster Packs contain 1 Common card, 1 Rare card and 1 Legendary card, costing 10 Euros.
Introduction Packs contain 1 Champion card and 5 Action cards and will cost 15 Euros.
The card deck
Your deck will contain 10 cards you can pick 1 Legendary and 3 rare cards, the other 6 being Action cards. You face off against other Champions. Each Champion has different abilities and powers that will affect the way you play. The cards you pick for your deck need to compliment the Champion's strengths. Once your cards level up, you can upgrade them in one of 3 ways, unlocking slots for items or relics, to further strengthen your deck.
Before you start playing with your new shiny cards, you will need to install the Malkyrs App on the Switch, as well as buy a 15 Euro booster pack on the eShop to active the physical card feature. The physical cards have to be scanned into the game, which also uploads any upgrades on the card. This is done in one of three ways:
Use the Joy-con on the Switch
The card scanner you can get separately
A mobile phone
For a better understanding of gameplay check out this official Malkyrs video, here.
Final Thoughts
Malkyrs looks like it is going to be a very fun gaming experience, but it is not going to appeal to everyone. The gamers who love TCGs and do not mind forking out for booster packs are going to love it, but for people with tighter money constraints will be at a bit of a disadvantage, with less card choices. I, for one, find this game to be very interesting and would love to play it, but I don't like the idea that there could not be that many other people playing on the Switch or PC as it might be too expensive. Being a cross-platform game, there is loads of potential to have a massive player base. I really hope Malkyrs does well and I will be checking it out again soon.

Exclusive interview with Malkyrs' Claire Racine
Can you introduce yourself and tell our readers a little about your game and the history of your games?
"Hello everybody, My name is Claire Racine and I am in charge of communication in Malkyrs Studio. I'm in the studio since it was created so I grew with the game :)"
Can you explain how the cards work?
"Inside each cards, there is a NFC chips with a unique identity. When you put the card on a card reading device (our reader / the Switch joy-con / a compatible phone with our app) it will appear on your screen (PC, MAC or Switch) and you can evolve them as you wish."
Can you explain the rules and deck building of Malkyrs?
"There is 2 type of cards : champion cards and action cards You can put up to 1 champion card and 10 action cards in your deck. However you can only have 1 legendary card in your deck (legendary cards are rare and powerful cards). The action cards can be put with all champions, but they will have more synergy with some champions and not with others. For example, if I am a warrior and i throw the card "fire ball"it will not deal as much damages as if I was a magus. You will play in a duel and put a card after your opponent card (Most of the time 1 turn = 1 card). Your card will be active only when your opponent respond. With some cards you can put special counters on your opponent to add effects on your actions. Some other cards also has special keyword. One of them is "Paralysis" and the effect is : your opponent has only 5 second to play at his next turn. Then every champion have a passive ability that you can change a bit when you evolve your champion. For example, one of my favourite champion is the goblin Nevardie. He has half of the other champions health point, but the first time he dies, he will revive with all his life and double his power for 2 turns. And when he evolve, you can change his ability to : The first time he dies, he revive with 4 time his power for 2 turns, but he only has 20 health points (which is really few!)"
Are the card upgrades permanent?
"The upgrades mainly impact your champion card, it will allows you to equip him or change his ability. The upgrades are linked directly to the card, so even if you play it on friend's account, it will its upgrades. The upgrades are not permanent until the maximum level of your champion. Then the game will ask you to seal your champion card. Once sealed, you will need favours to unseal it (favours are given after every game)"
Where did you get the idea for your game?
"The idea of the game appears in 2013, when 2 cards passionate students talked about a game they created to 2 of their friends that were working in NFC technology. They talked and realise they could implement NFC in card to gather the best of the classic and virtual Trading Card Game."
Will players be able to play others online or local coop?
"For the moment, in our Beta game, it is only in PvP. We planned to create a solo campaign (following our tutorial) in September 2019.  After finishing all, we have many more ideas for game mode but we will at first focus on that :)"
What will the single player game entail, if you have one?
"It will start with a tutorial, where you just arrived in the arenas and are still figuring out how and why you arrived here.  You will meet Heneld, one of the damned champion of the arenas. This character will guide you in his manner around the arenas where you will encounter several champions, each of

We are a Trading Card Game so there will be boosters. All cards are real so the boosters are physical too. One booster contains 3 random cards (you only need 10 cards to play) with 2 common cards and one rare card. I you are lucky, the rare card can be replaced with a legendary card or a treasure. The treasure are champion cards with an alternative art."
Why did you pick Kickstarter?
"We made our first crowdfunding campaign on Kickstarter to finance the creation of the project.  It is an international platform well fitted for board and video games. It was the perfect platform to start our second Kickstarter destination to finance the production of English cards and the solo campaign."
How did you react when you were funded in less than 3 hours?
"We were so happy and re-leaved! It was so important to us to succeed and we couldn't believe how fast the Kickstarter counter goes! Our beta player community was really ready and nothing would have been possible without her. However, we still have many surprises to uncover and to give to pledgers. Each stretch goals gives every backers an exclusive alternative art card and many more features to the game."
What's next for your development team?
"Our main priority will be to put the game on Nintendo Switch. We already did many progress and it will be ready to test soon. Then we have the creation of the solo campaign."
Do you have a working prototype of the game?
"We do! We are in open Beta in Europe since 2016 and we all ready count 5000 Beta players!"
Anything you would like to say to our readers?
"Thanks for reading me!

If you want to know more about Malkyrs you can go there

here"
Looking for more Kickstater games? Check out these other links; 
[/et_pb_text][et_pb_code][/et_pb_code][et_pb_text _builder_version="3.0.84″][/et_pb_text][/et_pb_column][/et_pb_row][et_pb_row _builder_version="3.0.48″ background_size="initial" background_position="top_left" background_repeat="repeat"][et_pb_column type="1_2″ _builder_version="3.0.47″ parallax="off" parallax_method="on"][et_pb_code _builder_version="3.0.83″][/et_pb_code][/et_pb_column][et_pb_column type="1_2″ _builder_version="3.0.47″ parallax="off" parallax_method="on"][et_pb_code _builder_version="3.0.83″][/et_pb_code][/et_pb_column][/et_pb_row][/et_pb_section]