[et_pb_section bb_built="1″ _builder_version="3.0.70″ custom_padding="0px|0px|0px|0px" next_background_color="#000000″][et_pb_row custom_padding="0px|0px|25px|0px" _builder_version="3.0.70″ background_size="initial" background_position="top_left" background_repeat="repeat"][et_pb_column type="4_4″][et_pb_video _builder_version="3.21″ src="https://www.youtube.com/watch?v=-HRGAJXUvBY" /][/et_pb_column][/et_pb_row][/et_pb_section][et_pb_section bb_built="1″ _builder_version="3.0.47″ custom_padding="37.90625px|0px|0px|0px" prev_background_color="#000000″ next_background_color="#000000″][et_pb_row _builder_version="3.0.47″ background_size="initial" background_position="top_left" background_repeat="repeat"][et_pb_column type="1_2″][et_pb_text _builder_version="3.21″]
12 is Better Than 6 Switch Review by SwitchWatch
Developer: Ink Stains Games
Publisher: HypeTrain Digital
[/et_pb_text][/et_pb_column][et_pb_column type="1_2″][et_pb_text _builder_version="3.21″]
Release Date: Out Now
Price as of Article: $9.99 USD, £8.99 GBP
Game code provided by HypeTrain Digital for review.
[/et_pb_text][/et_pb_column][/et_pb_row][/et_pb_section][et_pb_section bb_built="1″ _builder_version="3.0.70″ custom_padding="0px|0px|0px|0px" prev_background_color="#000000″][et_pb_row custom_padding="0px|0px|25px|0px" _builder_version="3.0.47″ background_size="initial" background_position="top_left" background_repeat="repeat"][et_pb_column type="4_4″][et_pb_toggle open="on" _builder_version="3.21″ use_border_color="on" title="Story"]
12 is Better Than 6 is a top-down action shooter set in the 19th century Wild West. There's a fairly weak story about you playing a Mexican slave who forgets his identity and escapes a slave camp to enact his righteous revenge, but it's told exclusively through plain-text dialogue. To make matters worse, the characters are all pretty unlikeable, uninteresting, or just plain uninspired. For this reason, I'd recommend skipping the dialogue and getting back into the action as quickly as possible.
The occasional cutscene or some voice acting would have gone a long way to liven things up, but the story definitely doesn't feel like the primary draw of this title.
[/et_pb_toggle][et_pb_toggle title="Gameplay" open="on" _builder_version="3.21″ use_border_color="on"]
There's a certain rush about not being able to survive a single gunshot in an age of being an immortal bullet-sponge protagonist, and 12 is Better Than 6 can certainly keep you on the edge of your seat… for the first few levels. It quickly becomes apparent that the levels don't stray particularly far from one another, and though there are some unlockable skills further into the campaign that keep things fresh, they come well beyond the point where you'll likely burn yourself out.
Compared to some of the great offerings of the genre, such as Hotline Miami or Ape Out, 12 is Better Than 6 plods along slowly, and never really captured my interest. Each level is a repetitive slog of peaking corners and blasting bad guys that sprint aimlessly in your direction. This may not sound awfully dissimilar to Hotline Miami, but the fast-paced mayhem of that game kept the blood racing, amped up to 11 by its amazing soundtrack. 12 is Better Than 6, through the very mechanic that makes it unique, is gated to a slower pace. You can't bust into a room and spray anything that moves, as you'll be quickly gunned down yourself. The cadence of loading every shot with ZL before firing with ZR is a realistic and intriguing gameplay mechanic, but not an especially fun one.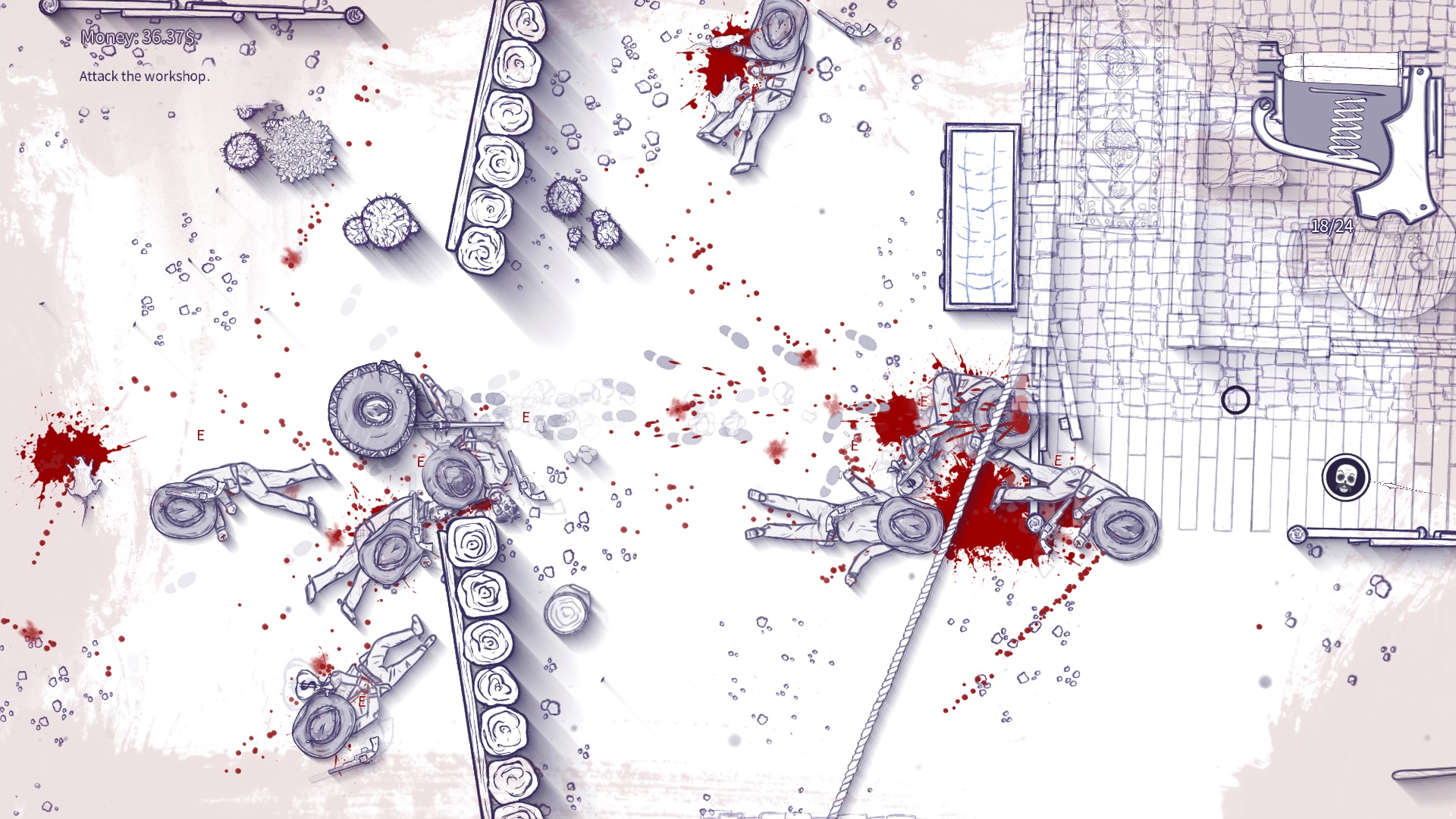 There are sporadic diversions from this routine gameplay, such as shotguns and bows that fire differently and rudimentary 'stealth' sections where you use a knife to pick off sleeping foes, but this muddies the action even further. Tackling levels methodically will definitely make them easier, but they slow it down significantly. Going in guns blazing will rarely work for you either, so you have to learn a rhythm of shooting and retreating to get the best of both worlds. Don't be mistaken, 12 is Better Than 6 can be brutally difficult at times, often spiking towards the end of a mission which led to frustrating deaths that force you to repeat your hard work.
After every death, the question of "Why am I playing this?" grew louder in my head until I'd have to put it down and play something more rewarding. This may be exactly the challenge some people are looking for, but it failed to provide me the "one more go" feeling that I was expecting. For this reason, 12 is Better Than 6 is definitely better suited to shorter play sessions, but I wouldn't recommend this for long journeys.
[/et_pb_toggle][et_pb_code _builder_version="3.17.6″][/et_pb_code][et_pb_toggle title="Audio, Visuals & Performance" open="on" _builder_version="3.21″ use_border_color="on"]
As you'll have seen by now, 12 is Better Than 6 has a lovely hand-drawn, pen and paper art style. The blue and white of the characters, guns, scenery, and everything in between is contrasted by the occasional dash of red. Every kill and death is accented by an acrid splatter of crimson that really stands apart from everything else on-screen. This was the highlight of the game for me, though I can understand some might find it visually underwhelming – I don't think it's a universally appealing aesthetic. By contrast, the audio – despite fitting the Western theme appropriately – did nothing to wow me, and I thought it was very easily forgotten.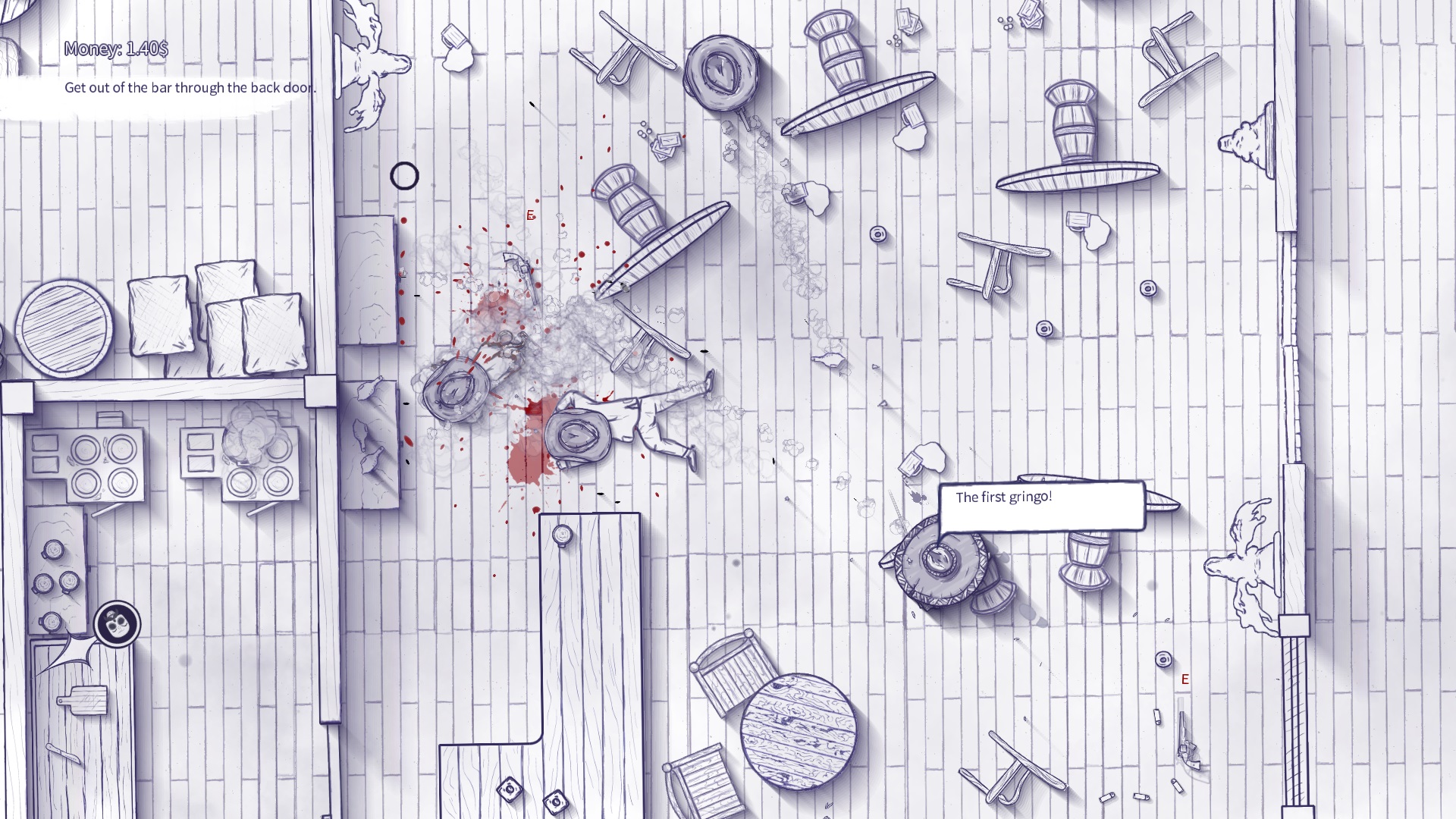 The game ran well in handheld and docked modes and unless vision is an issue, I'd recommend the former. Something about having the game up close accentuates the action and immerses you a little more, I found. It certainly didn't feel like the sort of game that was suited to a widescreen TV, played from the distant comfort of a sofa. 
[/et_pb_toggle][et_pb_toggle title="Value" open="on" _builder_version="3.21″ use_border_color="on"]
You're getting about 5 hours of gameplay for $9.99 USD or £8.99 GBP which is pretty decent in terms of raw value. What sullies this for me, though, is the enjoyment factor. These weren't hours "well spent", and though your mileage may vary, I'd recommend watching gameplay and listening to other impressions before deciding to buy this one. To reiterate, this may well appeal to some more than it did to me, but the initial novelty and charm wore off quickly for me and I wouldn't want someone to buy this and experience the same.
[/et_pb_toggle][/et_pb_column][/et_pb_row][et_pb_row use_custom_gutter="on" gutter_width="1″ make_equal="on" background_color_1="#f8f8f8″ background_color_2="#f8f8f8″ padding_top_1="30px" padding_right_1="30px" padding_bottom_1="30px" padding_left_1="30px" padding_top_2="30px" padding_right_2="30px" padding_bottom_2="30px" padding_left_2="30px" custom_css_main_1="||||" custom_css_main_2="||" _builder_version="3.0.93″][et_pb_column type="1_2″][et_pb_text _builder_version="3.0.95″]
Pros
[/et_pb_text][et_pb_blurb use_icon="on" font_icon="%%47%%" icon_color="#ffffff" use_circle="on" circle_color="#5bd999″ icon_placement="left" _builder_version="3.21″]
Awesome art style
[/et_pb_blurb][et_pb_blurb use_icon="on" font_icon="%%47%%" icon_color="#ffffff" use_circle="on" circle_color="#5bd999″ icon_placement="left" _builder_version="3.21″]
Decent value for money
[/et_pb_blurb][/et_pb_column][et_pb_column type="1_2″][et_pb_text _builder_version="3.0.95″]
Cons
[/et_pb_text][et_pb_blurb use_icon="on" font_icon="%%47%%" icon_color="#ffffff" use_circle="on" circle_color="#e6567a" icon_placement="left" _builder_version="3.21″]
Uninteresting Story
[/et_pb_blurb][et_pb_blurb use_icon="on" font_icon="%%47%%" icon_color="#ffffff" use_circle="on" circle_color="#e6567a" icon_placement="left" _builder_version="3.21″]
Repetitive Gameplay
[/et_pb_blurb][/et_pb_column][/et_pb_row][/et_pb_section]